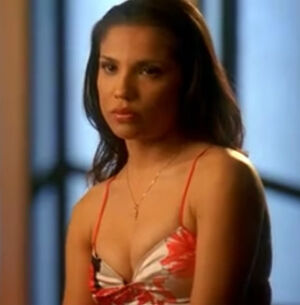 Adrienne Veston (Tonantzin Carmelo) is the villainess from CSI: Miami episode 5.19, "Bloodline" (airdate April 9, 2007). She is the wife of Reggie Veston, who runs the Kipayo Indian Casino, and they were both being questioned by Ryan and Calleigh regarding the murder of Doug Lansing. Reggie's name was on a black book that belonged to a deceased prostitute (who went under the name Tess), and after learning the truth, Adrienne confronted her husband. Right after Reggie confessed everything, the evil Adrienne killed her husband in a fit of rage, doing so by stabbing his face with her hair pin.
Adrienne was revealed as Reggie's killer when a single piece of confetti was found on the body--the confetti had traces of raspberry hairspray, which Adrienne uses. Calleigh informed Adrienne that she is under arrest.
Ad blocker interference detected!
Wikia is a free-to-use site that makes money from advertising. We have a modified experience for viewers using ad blockers

Wikia is not accessible if you've made further modifications. Remove the custom ad blocker rule(s) and the page will load as expected.