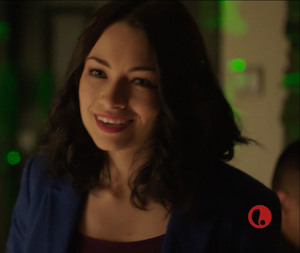 Audrey
(Jodelle Ferland) is the hidden villainess from the 2016 film,
Revenge Porn
(originally titled
My Daughter's Disgrace
; airdate June 18th, 2016). She is the childhood best friend of the film's main protagonist, Peyton Harris, whose life unravels due to nude photos of her being released online. As revealed in the midst of the film, Audrey actually sent Peyton's photos (which Peyton saved and deleted while considering getting breast implants) to a Shutterbug website, which ended up being posted on a revenge porn website ran by Eddie Cook (the film's main antagonist and the true villain).
Audrey confessed to Peyton about the act at a party (which Audrey didn't tell Peyton about), and regarding her reasons, she had harbored jealousy of Peyton due to her excelling at everything and always feeling second best in comparsion to her. Audrey sent the photos while she and Peyton were in Peyton's room, doing so while Peyton's back was turned. Though she was shocked to see the photos, Audrey sent them online anyway, calling what she did a "horrible impulse," Despite her remorse, however, the villainous Audrey stated that she wanted Peyton knocked off her "perfect pedestal" just for a little while. In the end, Peyton rejected Audrey's pleas for forgiveness and stormed away, ending their friendship.
Jodelle Ferland is perhaps best known for playing main antagonist Lillith "Lily" Sullivan in the horror film, Case 39.
Ad blocker interference detected!
Wikia is a free-to-use site that makes money from advertising. We have a modified experience for viewers using ad blockers

Wikia is not accessible if you've made further modifications. Remove the custom ad blocker rule(s) and the page will load as expected.