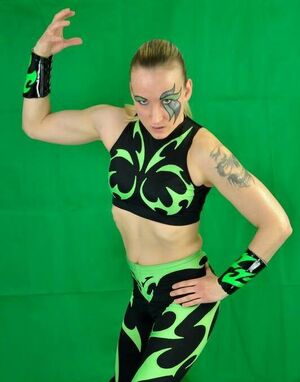 Lady Lory
is a professional wrestler competing for the
Bellatrix Female Warriors
promotion, where she portrayed a villainess.
Lady Lory first appeared for Bellatrix (known as the World Association of Women's Wrestling at the time) at Bellatrix 1 in March 2012, defeating Chanel in singles action. At Bellatrix 2, Lady Lory competed as a challenger for the EWW Women's Championship, but she was defeated by defending champion Skarlett. After the match, Lady Lory refused to shake Skarlett's hand, showing her disdain after her defeat. Lady Lory participated in the Queen of the Ring Tournament at Bellatrix 3 in September 2012, defeating Miss Mina in the first round but losing to eventual tournament winner Destiny in the semifinals.
Lady Lory returned to the renamed Bellatrix on March 2, 2014, doing so as one of the early entrants in the 30-woman battle royal main event at Bellatrix 8. She made it to the final two, but she was eliminated by Blue Nikita. At Bellatrix 9, Lady Lory participated in that year's Queen of the Ring Tournament and won it; defeating Penelope in the first round, Saraya Knight in the semifinals (with interference from Sammi Baynz), and Erin Angel in the finals. However, at Bellatrix 10, Lady Lory was defeated by Erin Angel in a rematch of the tournament finals.
At Bellatrix 11, the evil Lady Lory competed in a tournament for the vacant British Ladies Championship, defeating Addy Starr and Erin Angel to reach the finals against Chanel. Lady Lory began their match by targeting Chanel's banged up knee, but despite this, she was defeated by Chanel. After the match ended, Lady Lory--despite her villainous character--hugged Chanel and congratulated her on her victory.
Ad blocker interference detected!
Wikia is a free-to-use site that makes money from advertising. We have a modified experience for viewers using ad blockers

Wikia is not accessible if you've made further modifications. Remove the custom ad blocker rule(s) and the page will load as expected.