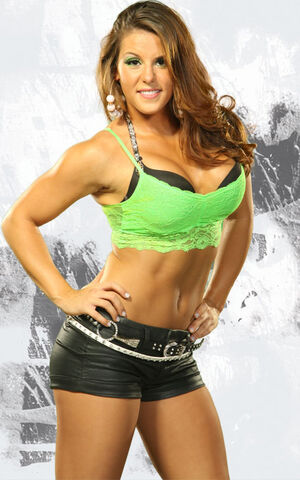 Audrey Marie
is a former wrestler who competed in
WWE
, where she portrayed a villainess.
Audrey debuted in 2011 and formed a villainous alliance with Sonia, as they feuded with Divas such as AJ Lee, Aksana, and Naomi, in what was then known as Florida Championship Wrestling (FCW). FCW became NXT in 2012, and after a long babyface run, Audrey turned heel in her match against Emma, which she won on November 28, 2012, doing so by displaying an arrogant attitude. All the while, Audrey was also sending "love letters" to newcomer Sasha Banks, claiming to be her secret admirer.
On February 20, 2013, the evil Audrey attacked Sasha from behind, while also revealing herself as the writer of the letters. Audrey had been jealous of Sasha getting all sorts of attention while Audrey herself had been out injured, and she wanted Sasha out of NXT. Later that same evening, Audrey defeated Sasha in a grudge match. Audrey would later lose to Sasha on two occasions, one of them being a tag team match. In her last match in WWE, Audrey was defeated by Emma in singles action.
Ad blocker interference detected!
Wikia is a free-to-use site that makes money from advertising. We have a modified experience for viewers using ad blockers

Wikia is not accessible if you've made further modifications. Remove the custom ad blocker rule(s) and the page will load as expected.