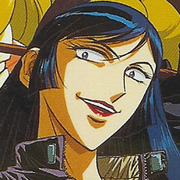 Ayumi Mizuchi (
海槌亜悠巳) is a secondary antagonist of the first story arc of the manga "Sukeban Deka" (スケバン刑事), as well as the 1991 original video animation of the same name. She is the middle sister of
Remi Mizuchi
and
Emi Mizuchi
.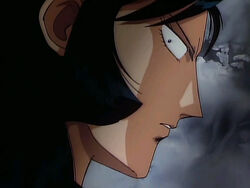 Prior to the OVA's events, Ayumi carries out her eldest sister's plan to viciously murder 76 of her schoolmates from Takanoha Gakuen High School by attaching gas tanks beneath two of the school buses, which later cause all of the students, as well as the drivers, to fall unconscious and drive off a steep cliff to their deaths. Soon after, a new batch of students are enrolled, the parents of whom Gozo plans to exploit in order to further his family's success.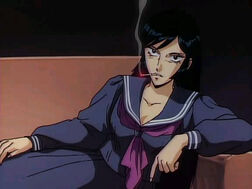 With the help of her bodyguards, the "Four Devas," Ayumi bullies all of the students into giving her their cash. Her wealth is further accumulated through drug dealings and donation gifts from her father. After the school-wide panic caused by Saki Asamiya's return to Takanoha, Ayumi commands the Devas to test the newcomer and make sure she doesn't pose a threat to her turf. Saki intentionally throws the fight, giving Ayumi the impression that she's not quite as dangerous as first rumored.
Nevertheless, as Saki presses further in her mission to take down the Mizuchis, she starts roughing up the students, who gradually start shifting their loyalty towards her and away from Ayumi. After effortlessly defeating the Four Devas and humiliating her on the schoolgrounds, Ayumi swears revenge on Saki. She is turned down by her sister Emi, but is instead offered help by Remi, who gives her a shotgun so that she may hunt down and kill Saki. Ayumi locates Saki and attempts to do just that, however, as she pulls the trigger, the gun explodes and kills her. In her last few seconds, she realizes that Remi must have rigged the gun and has now infiltrated her hidden base in the woods, where the entirety of her accumulated funds are stored.
In the live action tv series, Ayumi was portrayed by the late actress Endo Yasuko who died in 1985.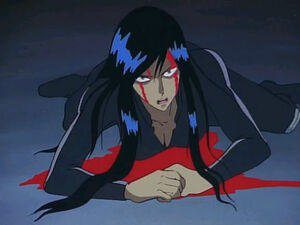 Ad blocker interference detected!
Wikia is a free-to-use site that makes money from advertising. We have a modified experience for viewers using ad blockers

Wikia is not accessible if you've made further modifications. Remove the custom ad blocker rule(s) and the page will load as expected.