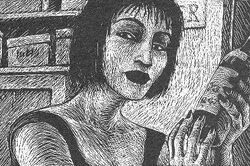 The (like all characters) unnamed
bartender
is the only female figure in Thomas Ott's silent comic story "The Millionairs" (from the album "Dead End").
She was ordered by the owner of the motel, she worked in at the bar, to poison a guest, whom he had seen with a briefcase full of money with. Later she electrocuted the motel keeper under the shower, so she could have the money on her own. But the customer secured the brief case with a scorpion, and while opening it, the bartender was stung by the beast and crashed the car, she was driving.
Ad blocker interference detected!
Wikia is a free-to-use site that makes money from advertising. We have a modified experience for viewers using ad blockers

Wikia is not accessible if you've made further modifications. Remove the custom ad blocker rule(s) and the page will load as expected.