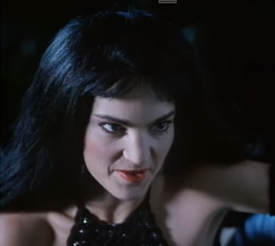 Berry Lou
(Brinke Stevens) was a villainess from the 1989 horror-comedy, 
Transylvania Twist
.
Berry Lou was an evil vampiress from a flashback scene with vampire hunter Victor Van Helsing. She is shown seated with Victor during a night out, and it is at that moment that she reveals herself as a vampiress and tells her true age:  1900. Just as Berry Lou is about to insert her vampire fangs into Victor, the hunter hands the villainess a vial, suggesting that they should have a drink together. Berry Lou drinks the contents of the vial, which is revealed to contain holy water, killing the vampiress instantly.
Ad blocker interference detected!
Wikia is a free-to-use site that makes money from advertising. We have a modified experience for viewers using ad blockers

Wikia is not accessible if you've made further modifications. Remove the custom ad blocker rule(s) and the page will load as expected.