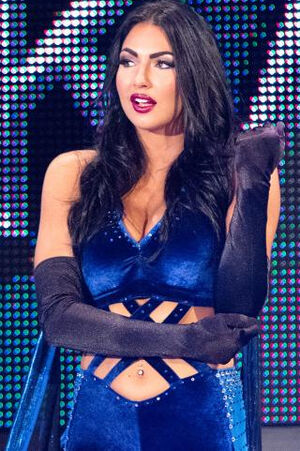 Billie Kay
is a professional wrestler competing in 
WWE
, where she portrays a villainess.
Billie Kay debuted on WWE's NXT program in June 2015, but within months, she became a villainess and adopted an arrogant attitude en route to losing to the debuting Asuka. Billie continued displaying her heel persona at NXT house shows; wearing an eye mask and entering with Sylvester LeFort as her manager, while dueling with women such as Bayley, Carmella, and Liv Morgan. On January 13, 2016, the villainous Billie made her return to the NXT program; competing in a #1 Contender's Battle Royal. Billie was one of the final five competitors remaining, as she and fellow villainess Peyton Royce ganged up on Asuka during most of the match, before Asuka eliminated both villainesses.
In September 2016, Billie formed a villainous alliance with fellow Australian Peyton Royce. The two women showed they could be mean bullies, and targeted Liv Morgan for no apparent reason. Backstage they walked in on Liv being treated after losing to Asuka in mere minutes, they both enjoyed taunting her about the loss, and laughed at her. A couple of weeks later Billie was scheduled to battle Liv in a match on NXT. In a backstage interview she said that Asuka may have defeated Liv quickly, but she was going to make their match last longer because she was going to enjoy beating Liv up. Peyton added that she would enjoy watching that. Billie went on to defeat Liv thanks to some interference from evil Peyton on the outside.
At the start of 2017 Billie and Peyton targeted the very competent and dangerous Asuka. On the 11th January 2017 edition of NXT they sneak attacked Asuka together, beating her down and pouring a drink over her head as she lay on the floor. This left Asuka in the unfamiliar position of being dominated and humiliated.
Personality
Edit
Billie Kay is portrayed as an arrogant villainess, as she often states that she has the longest legs in NXT. The leggy villainess uses those long dangerous legs to her advantage by putting her opponents away with a big boot.
Ad blocker interference detected!
Wikia is a free-to-use site that makes money from advertising. We have a modified experience for viewers using ad blockers

Wikia is not accessible if you've made further modifications. Remove the custom ad blocker rule(s) and the page will load as expected.