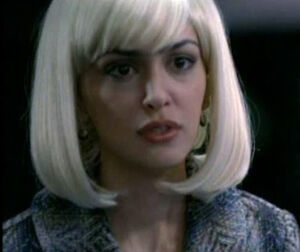 The unnamed Blonde Woman (Nazanin Boniadi) was a villainess in the eighth and final season of 24.
The Blonde Woman appeared in two episodes; her first being a brief appearance helping to place the captured Omar Hassan--the President of the Islamic Republic of Kamistan--into the trunk of a car. In her second appearance, it is revealed that she does have a daughter, who is carried to safety after Jack Bauer and Renee Walker enter their apartment. She also appeared to be pregnant with another child. The Blonde Woman senses Jack getting too close to the operation, and prepares to shoot Renee with a concealed gun. However, Renee sees this and kills the villainess with a single shot.
Nazanin Boniadi later appeared on Scandal as recurring villainess Adnan Salif.