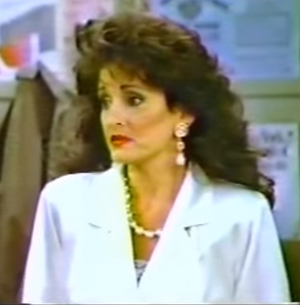 Brooke Collins
 (Robin Strasser) is the villainess from 
Dear John 
episodes 3.11 and 3.12:  "A Matter of Trust" (airdate December 19, 1990).
Brooke Collins is a struggling actress who inserts herself into the 1-2-1 club, fretting over her divorce from her husband. As to why her marriage fell apart, Brooke admits that she is a sex addict with an urge to sleep with the nearest man next to her, before cuddling up to John. At a nearby bar, Brooke thanks the group for helping her in her time of need, and once again gets close to John while doing so. Later in the episode, an angry Brooke fumes over a photo of her with John being on the cover of a tabloid, which led to the members of the group accusing each other of leaking the photo. John faced the most backlash, as he was facing being fired from his teaching job at Drake Prep over the unwanted publicity.
Brooke later appears in John's office and offers to help him clear his name, after Kirk "confessed" to leaking the story. However, it turned out that Brooke was the one who set everything up, posing with John at that bar and making sure the tabloids got them on photo for their cover, and she was on the phone with her agent boasting about her villainous scheme, which was done to get noticed and to get another part in a film. Later on at John's hearing, the evil Brooke appeared and stated that she did engage in a sexual act with John, in an attempt to further her publicity stunt. She later cozied up to John's headmaster, Dr. Hendricks, and it was at that exact moment that John realizes that Brooke leaked the story, which she boldly admitted. After doing so, however, John dumps a pitcher of water over Brooke, leaving the scheming villainess humiliated.
Ad blocker interference detected!
Wikia is a free-to-use site that makes money from advertising. We have a modified experience for viewers using ad blockers

Wikia is not accessible if you've made further modifications. Remove the custom ad blocker rule(s) and the page will load as expected.