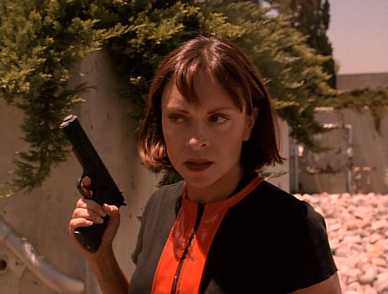 Carmin
(Karen Sheperd) is a violence-prone henchwoman in the 1997 sci-fi action film "Firestorm".
Carmin is the henchwoman for a ruthless villain Brinkman (John Savage).  The movie takes place in the year 2024.
In one scene, she is in charge of a tied up Lara (Roxana Zal), who is later shot by her associate.  Then she ties up Dancer (Sherrie Rose).
In the end, Carmin is shot and killed by Sonny (Bentley Mitchum) after a short fight.
Karen Sheperd appeared as the Enforcer in two 1996 episodes "The Enforcer", and "Not Fade Away" from the TV series "Hercules: The Legendary Journeys".