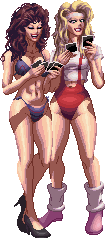 A villainess who likes to pick on others either physically or with verbal intimidation. She will use an advantage (weapons, physical strength, authority etc) she has over them to push them around, and often targets people she considers weaker than herself.
Ad blocker interference detected!
Wikia is a free-to-use site that makes money from advertising. We have a modified experience for viewers using ad blockers

Wikia is not accessible if you've made further modifications. Remove the custom ad blocker rule(s) and the page will load as expected.