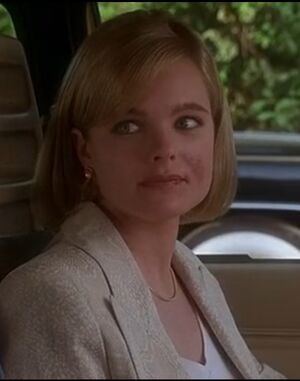 Catherine Verdoux
(Erika Eleniak) is a plot twist villainess from the 1996 film,
Tales From the Crypt Presents: Bordello of Blood
.
Catherine is the religious sister of Caleb Verdoux (Corey Feldman), who she reports missing. She works with private detective Rafe Guttman (Dennis Miller) to search for him, only for both of them to find that Caleb has become a vampire after he and his friend, Reggie (Matt Hill), visited Lilith's vampire brothel.
Catherine is later held captive by Lilith (Angie Everhart), but she is saved by Rafe.  In the film's climax, Catherine engaged in a final showdown with Lilith, ending with the vampiress killed by Catherine.
Catherine turned heel at the end of the film when she revealed to Rafe that she became an evil vampiress. Catherine's heel persona was hinted during the final scenes when she flirted with Rafe after being disgusted with him throughout the film. While the pair made out in her car, Rafe lifted up Catherine's skirt, revealing bite marks on Catherine's left thigh--showing that Lilith turned her while she was held captive. All the while, Catherine smiled evilly as she revealed to Rafe that what he thought was perfume she was wearing, was actually sunblock. At that moment, the evil Catherine flashed her vampire fangs, and the film ends with the vampiress attacking Rafe and biting his neck.
Erika Eleniak also portrayed the evil Victoria Paige in the 2004 Lifetime film Fatal Lessons: The Good Teacher, and previously appeared as greedy villainess Sara Morgan Bratchett from 2002's Second to Die.