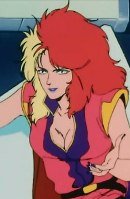 Chara Soon (キャラ・スーン) is a character from Mobile Suit Gundam ZZ. She is known for her erratic behavior while piloting mobile suits, later she fights alongside Haman's forces against remnants of Glemy Toto's rebel forces where she ultimately dies in a flash similar to Mashymre's. She also takes a number of AMX-004G Qubeley Mass Production Type units down with her.
Ad blocker interference detected!
Wikia is a free-to-use site that makes money from advertising. We have a modified experience for viewers using ad blockers

Wikia is not accessible if you've made further modifications. Remove the custom ad blocker rule(s) and the page will load as expected.