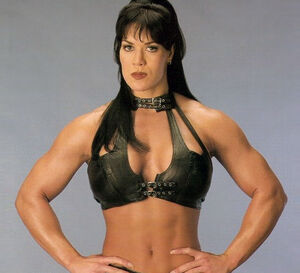 Chyna
was a professional wrestler and valet best remembered for her time in 
WWE
, where she portrayed a villainess.
Chyna debuted in the World Wrestling Federation as the heel bodyguard/manager to Triple H in 1997, and both would align with Shawn Michaels and Rick Rude to form the faction known as D-Generation X. After HBK was forced to retire in 1998, the faction continued on as villains, with Triple H as their leader, but all of them, Chyna included, would become babyfaces at the end of that year and heading into 1999.
One day after becoming the first woman in history to compete in the Royal Rumble Match, Chyna turned into a villainess and delivered a low blow to Triple H after he saved her from being decimated by The Corporation. She would become the newest member of The Corporation shortly after her betrayal, and after turning villainous, Chyna revealed that she joined the group for fame and money. At WrestleMania XV, the evil Chyna managed to lure Triple H to the Corporation when they both turned against X-Pac during his match against Shane McMahon. This put Chyna back in her original role as the villainous valet to Triple H, a role that came to an end when she started pursuing the Intercontinental Championship.
By 2000, Chyna had formed an alliance with Chris Jericho after they feuded over the IC Championship. On the day after WrestleMania 2000, however, Chyna turned villainous and helped Eddie Guerrero defeat Jericho to win the European Championship. As to why she turned against Jericho, Chyna stated that she couldn't resist his "Latino Heat." At the start, both Chyna and Guerrero were a villainous couple, but due to their fan reaction, both became babyfaces within a few months.
After her WWE career ended, Joanie Laurer (1969-2016) played villainous roles in Relic Hunter (as Natasha Tripova), Sabrina, the Teenage Witch (as Mary Jo Ponder), and the 2007 movie Illegal Aliens (as Rex).