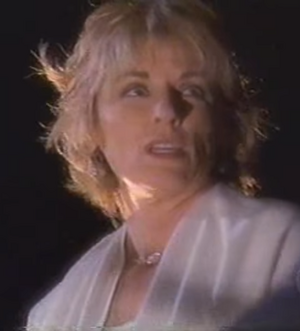 Clare Brantigan (Brynn Thayer) is the hidden main villainess from Diagnosis Murder episode 7.12: "Man Overboard" (airdate January 6, 2000). She is the wife of multimillionaire Robert Brantigan, as well as the stepmother to Robert's daughters, Amy and Tracy.
The family was on a cruise ship, which also had Mark, Jesse, and Amanda on board, and early in the episode, the trio had to come to Robert's rescue, with Clare showing gratitude for their efforts. Clare began turning heel when she drugged Robert and took him to the docks as part of a "moonlight stroll." She later struck her husband twice with a champagne bottle, with the second shot sending him overboard, killing him and cementing Clare's heel turn. After Robert's body was found, Clare got to work framing Amy for the murder. She berated Amy and blamed her for Robert's death, and later planted the drugs in Amy's room, leading to Amy's arrest.
It was later revealed that Robert was not Clare's first victim; she was married to another wealthy man, Greg Donahue, before she met Robert. As revealed by Greg's sister, Clare put an insurance policy on Greg before killing him, and she did the exact same to Robert, revealing Clare as a serial killer. With Mark closing in on her, the evil Clare decided to go after him as well, first by inviting him to her room for tea, which Clare drugged. As Mark was feeling the effects, the scheming villainess boasted that with him out of the way, she'll get away with murder. At that moment, Steve entered with Jesse and Amanda, and Clare is arrested for murdering both of her husbands and attempting to kill Mark, who was saved by Jesse and Amanda.
Brynn Thayer previously appeared on the series as the evil Claire Whitfield in Season Four's "The Merry Widow Murder."