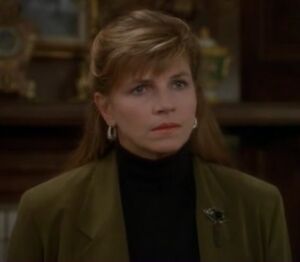 Cynthia Olston
 (Jennifer Warren) is the main villainess from 
Murder, She Wrote
episode 7.19, "Thursday's Child" (airdate April 7, 1991).
Cynthia Olston is the wife of contractor Ben Olston, who is involved in an extra-marital affair with his assistant, Dawn Bickford. Cynthia had suspected Ben of cheating--due to the fact that he's had a number of affairs--and had figured that he was doing so with Dawn. She returned home early from visiting her mother to catch Ben in the act, only to find Nancy Landon approaching the house. However, Cynthia's suspicions were confirmed when she answered her phone and heard Dawn stating that she was unable to go to the house that night.
After Nancy left, Cynthia confronted Ben, who didn't deny the affair. The pair engaged in a scuffle that ended with Cynthia picking up a gun and shooting Ben to death. After killing her husband, the evil Cynthia planned to frame Nancy for the murder; typing an appointment slip that would prove that Nancy was at the house, and later planting the gun in her car, while also burning Nancy's report. Though not shown on-screen, Cynthia was arrested for killing her husband.
Ad blocker interference detected!
Wikia is a free-to-use site that makes money from advertising. We have a modified experience for viewers using ad blockers

Wikia is not accessible if you've made further modifications. Remove the custom ad blocker rule(s) and the page will load as expected.