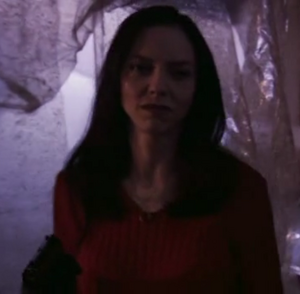 Dana Declan
, aka
Lisa Calders
(Juliet Landau) was the main villainess from the 2005 film, 
Fatal Reunion
. She is the psychotic wife of Marcus Declan, who was suspected by Dana of having an affair with another woman. Once she found the mistress, named Nicole, Dana stalked her late one night and killed her.
Dana later appeared at the home of protagonist Jessica Landers, posing as a lawyer named Lisa Calders, after Jessica was led to believe that Marcus (who is an old classmate of hers) was stalking her. In actuality, it was Dana who had been stalking both of them, and her reveal came when Jessica and Russell arrived at a farmhouse, only to see Marcus tied up and Dana pointing a gun at her husband.
Dana boasted about killing Nicole and refused to believe that there wasn't anything going on between Marcus and Jessica. After shooting Marcus and Russell (who both survived), the evil Dana chased after Jessica with intent on killing her. During the chase, Jessica knocks out the villainess, only for Dana to revive and continue her pursuit. Dana ends up falling and impaling herself through a steel rod, killing her.
Juliet Landau is undeniably best known for playing evil vampiress Drusilla on Buffy the Vampire Slayer.
Ad blocker interference detected!
Wikia is a free-to-use site that makes money from advertising. We have a modified experience for viewers using ad blockers

Wikia is not accessible if you've made further modifications. Remove the custom ad blocker rule(s) and the page will load as expected.