Desiree Atkins (played by Krista Allen) is the villainess in the Smallville episode called "Heat" (Season 2-EP02).
Desiree is not a simple a biology teacher with bad intentions. She has a very special ability after she had been infected by some Kryptonite when she was teenager during the 1989 meteor shower in Smallville. Her mouth could now produce a mist of Super Pheromones.
Every man who breathes this cloud of concentrates pheromones is instantaneously under the demonic control of the beautiful Desiree. She has not Super Strengh or Super Speed but this special ability could make her a very dangerous person...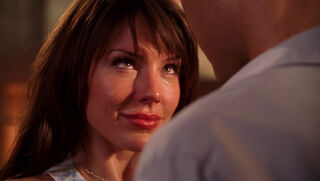 Ad blocker interference detected!
Wikia is a free-to-use site that makes money from advertising. We have a modified experience for viewers using ad blockers

Wikia is not accessible if you've made further modifications. Remove the custom ad blocker rule(s) and the page will load as expected.