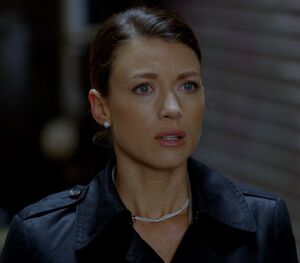 Diane Hansen (Natalie Zea) is the hidden main villainess from the pilot episode of Person of Interest (airdate September 22, 2011). She is an assistant district attorney prosecuting against Lawrence Pope, who was on trial for a gang related murder. Finch and Reese tracked Diane under the belief that she's being targeted by gang members.
However, it was later revealed that Diane is the evil mastermind of a conspiracy involving a group of corrupt cops who steal drugs and money while framing Pope for their crimes. Diane's villainous reveal came when she met with the crooked cops in an alley, where Reese followed her. She revealed that she had Pope killed in prison and after Reese was found by the group, the evil Diane ordered them to kill Reese and later kill Wheeler, Diane's ex-boyfriend and a fellow prosecutor. The villainess was exposed during a court proceeding, when a recording of Diane revealing her role in the conspiracy was played by Reese. Diane was arrested (off-screen) for her crimes.
Natalie Zea also played recurring villainess Maxine Seagrave during Season One of Under the Dome.
Natalie Zea also played villainess Sophie Cullen from the 6th season premiere of Medium.
Diane Hansen is mostly similar to Valerie Delgado, the villainess from Rizzoli & Isles. Both were corrupt prosecutors who were in league with criminals, and both directly committed murder to further their own villainous goals. One difference is that Diane was aligned with a group of corrupt cops, while Valerie was aligned with a single gang member. Another difference is that Valerie's alliance with her cohort was suggested as equal (despite Valerie's claims that she wasn't the mastermind), Diane was revealed as the evil mastermind in her group.