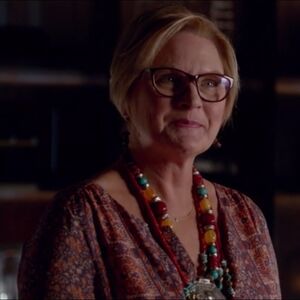 Dr. Marion Baker (Denise Crosby) is the main villainess from "Death Wish," episode 8.17 of Castle (airdate April 11, 2016). She is an author and professor who is an expert on Middle Eastern literature.
As later revealed, Marion also had an obsession with finding King Solomon's tomb; an obsession that consumed her and ruined her marriage. She failed on numerous attempts to find the tomb, but after discovering that Lars Cross (a sonar technician and former pupil of Marion's) found it, she became consumed with jealousy. In the opening scene, the evil Marion tortured Lars at his home before beheading him with a sword, and also later stole an ancient lamp--one of the artifacts from the tomb. At the end of the episode, Marion is arrested for murdering Lars.
Denise Crosby is also known for playing villainous Romulan Commander Sela on Star Trek: The Next Generation, and also played recurring villainess Dr. Gretchen Kelly on Lois and Clark: The New Adventures of Superman.
Denise Crosby also played Beth's mother in 2015's Don't Wake Mommy, and appeared on Scandal as the evil Janice Holland.