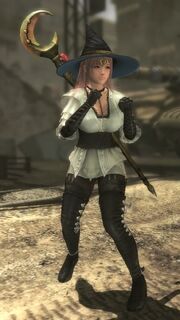 Evelyn
 (イヴリン), the Masochistic Sorceress is a female enemy in 
Deception IV: Blood Ties
and also appears in
Deception:The Nightmare Princess
,
Evelyn is a descendant of the Saints and a hugely talented magic user. Evelyn is also a hardcore masochist, who's fond of physical suffering and psychological abuse. She will go to great lengths in pursuit of these pleasures indeed, and it is rumored that the only reason she became such a capable sorceress was to enhance her perverse delights
Ad blocker interference detected!
Wikia is a free-to-use site that makes money from advertising. We have a modified experience for viewers using ad blockers

Wikia is not accessible if you've made further modifications. Remove the custom ad blocker rule(s) and the page will load as expected.