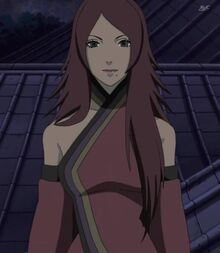 Fūka was a villainess from the anime Naruto: Shippuden
She was portrayed as a seductive vixen as a way to lure her prey in and kill them with an Execution by Kiss. She would further speed up the process by giving her targets a choice between a French or traditional kiss. Her most preferable victims were those with a natural affinity for wind chakra. She took great pride in her appearance and would become infuriated when any harm came to her physical being, especially her hair, the very casing of her soul.
During her second fight against Naruto Uzumaki, she showcased a sadistic side when she delighted in Naruto's anguish. She has shown an intelligent side as seen when she thought that Sora and Naruto were connected somehow.