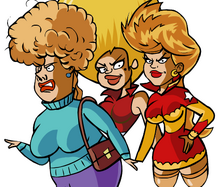 These Female Enemies appear in the flash game You Don't Mess With The Zohan, based on the movie of the same name.
You control Zohan as he tries to give all the enemies a new hair cut. To do this you have to get them into a stunned state by attacking them with your scissors and by kicking them.
The enemies will walk back and forth around the different levels and damage you on touch.
Ad blocker interference detected!
Wikia is a free-to-use site that makes money from advertising. We have a modified experience for viewers using ad blockers

Wikia is not accessible if you've made further modifications. Remove the custom ad blocker rule(s) and the page will load as expected.