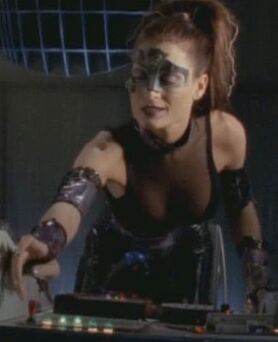 Gig (Lisa Alvarez) is one of the two henchwoman in the 2001 episode "Virtual Vice" for the TV series "Black Scorpion".
Gig is a sidekick along with Byte (Amy Miller) for the villainess, Dr. Sarah Bellum/Mindbender (Lana Clarkson). Mindbender was attempting to provide a place for homeless in the City of Angels in the form of a shelter based in virtual reality. Because Mayor Worth (Robert Pine) rejected this proposal, Dr. Bellum transformed into Mindbender, a sexy Virtual Reality specialist, who uses her power to create fantasies that transform into reality.
Gig and Byte help her kidnap the Mayor and Babette (Shae Marks). Something goes terribly wrong, when Mindbender transfers the imaginary world or virtual reality into the real world, and those people who die in their VR fantasies, suddenly die in reality as well.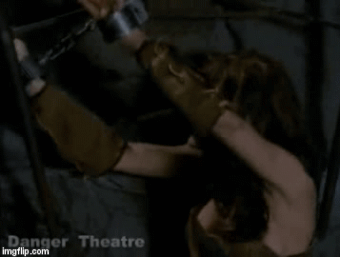 Gig and Byte wear matching sexy outfits that consist of black leotard and matching bra bra, with fishnet cover over their exposed cleavage. They have a purple corset and matching choker necklace and opera gloves. They also are wearing eye masks to conceal their identity, and their brunette colored hair is in a ponytail.
Black Scorpion (Michelle Lintel) foils their plan by trapping Mindbender and her two beautiful henchwomen in a prison cell wearing the virtual reality headgear. In their virtual reality mind, they are chained up in a medieval dungeon. As the camera pans out on these lovely ladies, we get a glimpse of Byte struggling with her hands chained up above her head.
Ad blocker interference detected!
Wikia is a free-to-use site that makes money from advertising. We have a modified experience for viewers using ad blockers

Wikia is not accessible if you've made further modifications. Remove the custom ad blocker rule(s) and the page will load as expected.