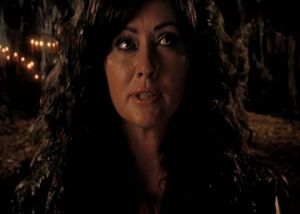 Gretl
(Shannen Doherty) is the titular main villainess from the 2012 SyFy Channel film,
Witchslayer Gretl
.
In this adaptation of the Hansel and Gretel tale, Gretl was believed to have perished when she and Hansel fought the Witch Queen, with Hansel burning the queen alive. In actuality, Gretl turned heel when she became possessed by the Witch Queen, and went on a mission to find a new and more powerful vessel. She sent her warlock henchman to kidnap a young witch named Ehren, but he was thwarted by Hansel and Lara. However, the evil Gretl did manage to capture Hansel, and used his shock as seeing his sister possessed to taunt him. Gretl later tortures her henchman after she learns that he informed Hansel that Gretl's soui is in the queen's original burned body, and in the meanwhile, Hansel manages to free Gretl from the vessel and place her back in her own body.
Trivia
Shannen Doherty previously played psychotic femme fatale Lorie Brindel from the 1992 film Obsessed.
Gallery
Ad blocker interference detected!
Wikia is a free-to-use site that makes money from advertising. We have a modified experience for viewers using ad blockers

Wikia is not accessible if you've made further modifications. Remove the custom ad blocker rule(s) and the page will load as expected.