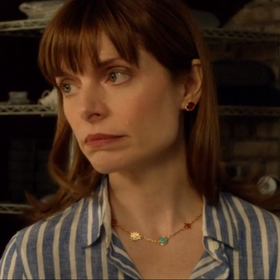 Helen Barnes
 (Gretchen Egolf) is a villainess from the pilot episode of 
Reckless
 (airdate June 29, 2014). She was a co-owner of a custom jewelry store, owning the store with her friend Carrie Baker. Prior to the episode's events, Carrie was found dead in the store after working late, having been stabbed in the back of her neck with a bezel.
Deshaun Linares, a customer of the store, was suspected of the murder after a piece of allegedly stolen jewelry was found in his possession, leading him to be put on trial. Deshaun was represented by Jamie Sawyer in his trial, with Jamie visiting Helen at her and Carrie's store to convince her of Deshaun's innocence. During her visit, Helen appeared heartbroken by Carrie's death, while revealing that she couldn't bring herself to run the store without her.
But as revealed over the course of the episode, Helen was using her and Carrie's business as a front for selling fake jewels. Jamie exposed Helen's greedy scam when she took the stand at Deshaun's trial, setting fire to the ring found on Deshaun (it having been made by Carrie as a gift for his girlfriend) to reveal the gems weren't real; the gems began to melt despite the fact that diamonds aren't supposed to be damaged when in contact with fire. Jamie went on to reveal how she'd found evidence of her regularly selling fake gems to a man in Greenville before insinuating that Helen had killed Carrie after catching her switching her gems out for fakes. She also brought up the possibility that Helen had killed Carrie after learning she'd had an affair with Helen's boyfriend Kenny before the judge had Jamie and Roy Rayder (the prosector for the trial) approach the bench, with Helen's shocked expression implying that Jamie was right in her claims. After Roy had the charges against Deshaun dropped, Helen was shown being escorted out of the courthouse in handcuffs, indicating that she was arrested for her scam and (presumably) murdering Carrie Baker.
Helen Barnes is Reckless' first villainess.