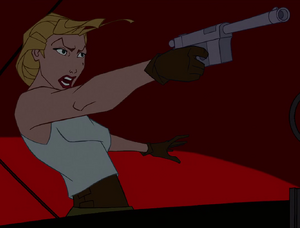 Helga Katrina Sinclair
is the secondary antagonist of the 2001 animated film "Atlantis: The Lost Empire". A German woman, she is part of the ethnicallly diverse team that ventures in search of the fabled city, but once there, reveals that she was aligned with team leader, Commander Rourke's agenda of raiding the land and culture of all it's valuables.
Helga holds the Atlantian king's daughter, Kida, hostage and takes her, with Rourke and hero Milo Thatch, to the royal chamber, where the princess is then transformed into the energy source of her people. Rourke and Helga plan to return to the surface and sell their new prize to the highest black market bidder. However, Milo and the rest of the reformed team stop them before they are able to do so. Attempting to escape via hot air balloons, Rourke betrays Helga and tosses her overboard; an act which she reciprocates by firing her flare gun at the balloon, sabotaging his escape. 
At the film's climax, it is confirmed by one of the team members, Cookie, that she was killed when the flaming balloon came crashing down on her.
Ad blocker interference detected!
Wikia is a free-to-use site that makes money from advertising. We have a modified experience for viewers using ad blockers

Wikia is not accessible if you've made further modifications. Remove the custom ad blocker rule(s) and the page will load as expected.