There are many lesser henchwomen in the 1996 comedy horror film "Satanic Yuppies" (aka. "Evil Ambitions").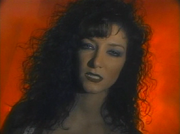 Victoria 
​(Amy Ballard) is perhaps the most active woman in the Inferno corporation aside from
Brittany Drake
and
Tawny
.  
Often paired with Victoria is
Jamie
(Stacey Sparks). At the climax of the film, the two are punished by Satan by being sucked into a vortex to Hell to be enrolled into his "frequent fryer" program, after they bungled up the task of obtaining a virgin to be his bride.
Other minor villainesses include the naked Flame Dancer (Naomi Keates), the Interns (Glori-Anne Gilbert, Chrystal Waters, and Anastasia Heonis), and the Cult Members (Crissee Barkeloo, Laura Terry).
Ad blocker interference detected!
Wikia is a free-to-use site that makes money from advertising. We have a modified experience for viewers using ad blockers

Wikia is not accessible if you've made further modifications. Remove the custom ad blocker rule(s) and the page will load as expected.