Isis
is the primary antagonist of the 2002 Game Boy Advance sidescrolling adventure game, "The Scorpion King: Sword of Osiris". 
A servant of the game's supposed antagonist, Menthu, Isis works with him in order to obtain the legendary Scorpion Stone. When Menthu falls in battle with the hero, Mathayus, however, she ends up betraying him and reveals that she had planned to use the Scorpion Stone on herself all along. The stone transforms her into a giant scorpion beast, but she is ultimately slain by Mathayus.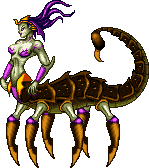 Ad blocker interference detected!
Wikia is a free-to-use site that makes money from advertising. We have a modified experience for viewers using ad blockers

Wikia is not accessible if you've made further modifications. Remove the custom ad blocker rule(s) and the page will load as expected.