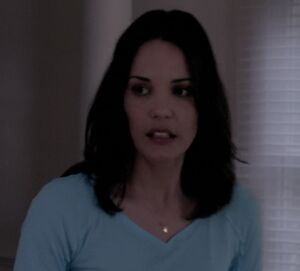 Jana Murphy
(Leslie Bibb) was a recurring villainess from the second season of 
The Following
.
Jana Murphy was a former FBI agent who gave up her career to become a stay-at-home mother and raise her children with her lover, FBI Agent Gina Mendez. According to Gina, Jana developed post-partum depression after giving birth to her son, and in a psychotic rage, she murdered the neighbor's dog. In her first appearance in the episode, "Family Affair," Jana is revealed to be one of the twisted followers of serial killer Joe Carroll, and she was also revealed to have helped Joe fake his death in-between Seasons One and Two.
In the episode "Unmasked," Jana's connection to Joe Carroll is discovered by Gina, who learns that Jana used Gina's security clearance to continue to help Joe. Gina confronts Jana at their home, only to be stabbed and spat on by the psychotic villainess (Gina survived), who was planning to leave to further help Joe. Jana's plan is thwarted when Ryan and Mike stop her, only for Jana to pull a gun on both of them. When asked by Ryan regarding Joe's whereabouts, Jana instead placed her gun to her head and committed suicide with a single shot.
Leslie Bibb also played the evil Selby Triplets from CSI: Miami, as well as the psychotic Aimee Brells from the YouTube Red series Rhett and Link's Buddy System. 
Ad blocker interference detected!
Wikia is a free-to-use site that makes money from advertising. We have a modified experience for viewers using ad blockers

Wikia is not accessible if you've made further modifications. Remove the custom ad blocker rule(s) and the page will load as expected.