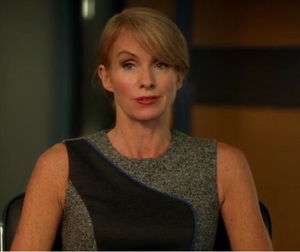 Janet Carroll (Suki Kaiser) is the villainess from Arrow episode 5.02, "The Recruits" (airdate October 12, 2016). She is the CEO of AmeriTek Industries.
After VP Evan Wender was attacked by Ragman, she is promised by Oliver Queen that she'll be protected at an event regarding the opening of a medical clinic. Despite Oliver and his new team of recruits attending the event, Janet is attacked by the Ragman and ends up hospitalized. Once Oliver learns that Janet was released, Thea is sent to attempt to talk Janet out of filing a lawsuit due to the events.
Later on, however, Janet turned heel when she was shown meeting with crime lord Tobias Church, revealing that she was selling weapons to him for a $100 million payout. It was also revealed that AmeriTek was facing bankruptcy, and Janet's villainous deal was made to prevent it from happening. During another meeting with Church, the evil Janet again encountered Ragman, who was seeking revenge on AmeriTek, but she escapes after Oliver orders Ragman to let her go.
Suki Kaiser also played villainous werewolf Rose on Supernatural.
Ad blocker interference detected!
Wikia is a free-to-use site that makes money from advertising. We have a modified experience for viewers using ad blockers

Wikia is not accessible if you've made further modifications. Remove the custom ad blocker rule(s) and the page will load as expected.