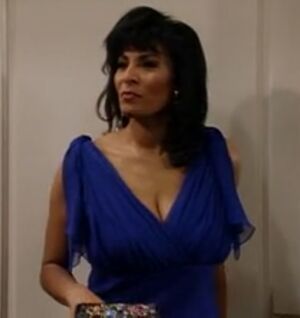 Janice Robertson
(Pam Grier) is the villainess from "M Is for the Many Things She Gave Me," episode 4.22 of
The Fresh Prince of Bel-Air.
Janice Robertson is an old college flame of Philip Banks, and her presence at the Banks' house already caused jealousy from Vivian, due to Phil's bonding with Janice. She is also the mother of Wendy Robertson, who later went on a date with Will (who won a bet with Carlton over her affections).
After dropping Wendy off at her hotel room, Will encountered Janice, who invited him inside her own room. Janice began turning villainous when she resurfaced wearing a red robe, which made Will nervous. She later showed Will some photos of her from her college days, including one of her not wearing anything, continuing her seduction. Will rushes to leave Janice's room, but at that moment, the evil Janice informs Will that he is not going anywhere and later engages in a sexual tryst with Will, cementing Janice's heel turn.
The next day, Janice encounters Will again at the Banks household and continued her seductive ways, while also showing concern only for her own appearance if her villainous secret was found out. The act is eventually revealed when Will confesses to Phil, but even after the revelation, Janice showed little remorse and stated that it wasn't a big deal. She again flirted with Phil, but he resisted her and showed his devotion to Vivian.
Pam Grier later recurred on Smallville as the notorious DC villainess Amanda Waller.
Ad blocker interference detected!
Wikia is a free-to-use site that makes money from advertising. We have a modified experience for viewers using ad blockers

Wikia is not accessible if you've made further modifications. Remove the custom ad blocker rule(s) and the page will load as expected.