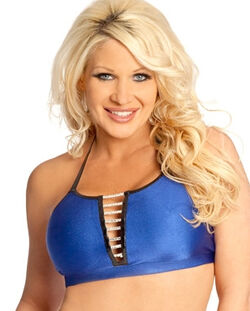 Jillian Hall
is a former professional wrestler and manager best known for competing in 
WWE
, where she portrayed a villainess.
Jillian debuted on the July 28, 2005 episode of Smackdown, doing so as the evil publicist for MNM (Joey Mercury, Johnny Nitro, and Melina). She met the trio backstage and was hired as their "fixer," while also revealing a hideous mole on the left side of her face. Later in the evening, Jillian was at ringside as Melina defeated Torrie Wilson. After the match ended, the evil Jillian attacked Candice Michelle, who protested Melina's victory. Jillian laughed evilly at Candice before leaving with Melina. Later in the year, Jillian served as the image consultant for John "Bradshaw" Layfield, and it was at that time that she engaged in a brief feud with Stacy Keibler. Jillian defeated Stacy on an episode of Velocity, while donning a mask to cover her mole, which was later bitten off by The Boogeyman in January 2006. Jillian was fired by JBL after WrestleMania 22.
Jillian's most notable villainous gimmick began in early 2007, when she developed jealousy of Ashley Massaro's Playboy cover, and declared that she could to anything Ashley could do. In her attempt to show that she could do things other than wrestle, Jillian started singing... very badly. The gimmick had Jillian (and only Jillian) believing that she was a good singer, despite others knowing that she couldn't sing at all. During her role, Jillian engaged in feuds with Mickie James, Ashley, and the Bella Twins (Nikki & Brie), and even captured the Divas Championship on October 12, 2009. However, Jillian lost the title just under five minutes later to Melina.
Ad blocker interference detected!
Wikia is a free-to-use site that makes money from advertising. We have a modified experience for viewers using ad blockers

Wikia is not accessible if you've made further modifications. Remove the custom ad blocker rule(s) and the page will load as expected.