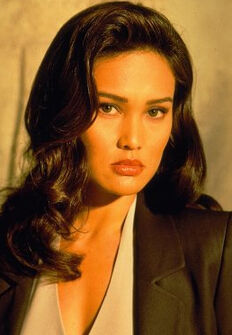 Juno Skinner
(Tia Carrere) is the secondary antagonist of the 1994 action film "True Lies". Juno Skinner was a beautiful woman. An arts and antiquities dealer, who was working for terrorist by collecting information for their organization with her feminine wiles. She also helps smuggle arms in to the U.S. by placing them into ancient artifacts. After kidnapping Harry Trasker's wife in her limo, she and Helen get into a cat fight, which she loses. She is then left in her limo as it plunges in ocean due to a collapsed bridge.
Tia Carrere also played evil witch Akivasha in Kull the Conqueror, and villainous scientist Joan Maxwell in Merlin: The Return.
On TV, Tia Carrere played Piper Bowman on Married...With Children, and played human trafficker Chao Lin on Blue Bloods.
Ad blocker interference detected!
Wikia is a free-to-use site that makes money from advertising. We have a modified experience for viewers using ad blockers

Wikia is not accessible if you've made further modifications. Remove the custom ad blocker rule(s) and the page will load as expected.