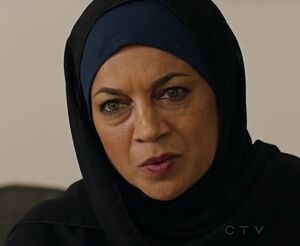 Kadisha Abdullah
(Anna Khaja) is the main villainess from
Conviction
episode 1.03, "Dropping Bombs" (airdate October 17, 2016). She is the wife of a beloved imam who was killed (along with three others) in his mosque when it was bombed on September 11, 2011 (the 10th anniversary of 9/11). Rodney Landon, a known anti-Muslim bigot, was convicted of the crime, but it was later revealed that Kadisha was the actual bomber.
Kadisha had found out that her husband had been cheating on her with numerous young women that he had been mentoring, and she plotted revenge by killing him. In her murderous plot, the evil Kadisha discovered Landon's instructions for building a particular bomb and used them to build the bomb she would later use to blow up the mosque. After Hayes Morrison's crew found video of Kadisha carrying the bomb in a large purse on the day of the bombing, they searched Kadisha's home for the bag, which was in the closet. Kadisha was later arrested.
Kadisha Abdullah is the first female one-shot villain from Conviction.