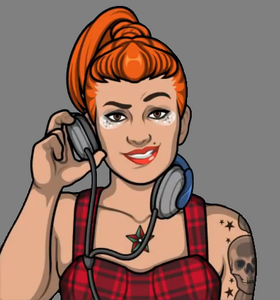 Kalua Kaboom
 was a villainess from "Murder on the Dance Floor", case #15 of 
Criminal Case: The Conspiracy
, the 5th season of the crime solving game 
Criminal Case
 (release date April 26, 2018). She was a DJ at the Blue Flamingo nightclub, where she was found electrocuted to death.
Over the course of the investigation, Kalua was revealed to have been a callous and self-absorbed woman in real life, ruining the business of cheese seller Tallulah Shropshire (who used Kalua as a mascot for her product) by becoming vegan and demonizing cheese products. Kalua also got into conflict with Blue Flamingo's owner Tony Marconi as well as music store clerk Ziggy Sparks, with the latter disliking Kalua adding techno beats to classic songs.
Ultimately, though, Kalua's killer was revealed to be Robyn Ash, who had revealed she had hired Kalua to DJ at her 21st birthday party, during which the strobe lighting Kalua used during her performance gave a friend of hers a seizure. Upon confessing to Kalua's murder, Robyn revealed that the person who had had the seizure was her younger sister Piper, who had epilepsy. Robyn had asked for Kalua not to use strobe lighting in her performance to prevent Piper from being harmed. However, the evil Kalua reneged her promise and went ahead with using strobe lights, resulting in Piper's seizure and eventual death. Heartbroken and vengeful over her sister dying as a result of Kalua's selfishness, Robyn attacked and killed Kalua at the nightclub, shocking her to death with a high-voltage stun gun.