Karugari (カルガーリー)
is the primary antagonist of 
"Princess Minerva" 
(プリンセス・ミネルバ)
, a
 1994 PC Engine CD fantasy RPG by Red Company.
Karugari is the goddess of destruction. With intentions of resurrecting her, secondary villain Raikeru hatches a plan to pit Princess Minerva and her twin sister Princess Dynastar (the false primary antagonist of the story) against each other.
Once the two ultimately disover his ruse, Minerva and Dynastar then team up to defeat the goddess.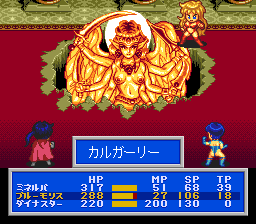 Ad blocker interference detected!
Wikia is a free-to-use site that makes money from advertising. We have a modified experience for viewers using ad blockers

Wikia is not accessible if you've made further modifications. Remove the custom ad blocker rule(s) and the page will load as expected.