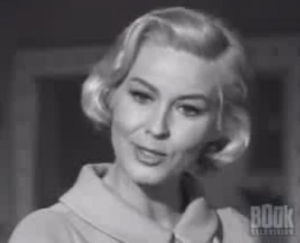 Kate Devore (Rebecca Sand; 1912-1995) is the villainess from "The Opportunity," a seventh and final season episode of Alfred Hitchcock Presents (airdate May 22, 1962).
Kate is the evil wife of Paul Devore, and the couple are in an unhappy marriage. Despite this, Kate refuses to grant Paul a divorce, as she is unwilling to hand half of her fortune to him. By the end of the episode, Kate walks in to the home to find Paul tied up and the house burglarized, with Kate's safe robbed (by Paul, who set up the scenario). Kate considered Paul lucky that the burglars didn't kill him, but instead of freeing Paul from his "capture," the evil Kate took the opportunity to kill Paul, doing so by smothering him with a pillow. It was revealed in Hitchcock's closing narrative that Kate was arrested for Paul's murder.
Ad blocker interference detected!
Wikia is a free-to-use site that makes money from advertising. We have a modified experience for viewers using ad blockers

Wikia is not accessible if you've made further modifications. Remove the custom ad blocker rule(s) and the page will load as expected.