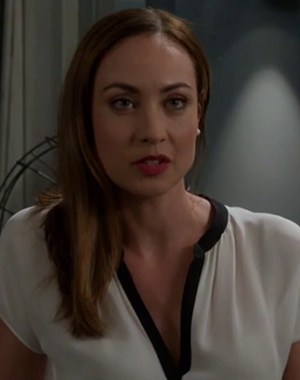 Katherine Black
(Courtney Ford) was a recurring villainess from Season Four of
Revenge
.
Katherine Black was the daughter of notorious criminal Malcolm Black. She inserted herself into the FBI under the name Kate Taylor and developed a romantic relationship with Jack Porter while investigating the murder of Conrad Grayson. Kate's real objective was to recover money taken from her father by David Clarke, and Emily Thorne eventually figures this out, as well as her real identity, after Kate tells her that Malcolm had her mother held captive.
Kate confessed everything and intended on shooting and killing Emily, but Emily had unloaded her gun. Katherine and Emily engaged in a violent brawl, which took the notice of Daniel Grayson, who entered to save Emily. Katherine fatally shoots Daniel, but is shot and killed by Jack after he learns her true identity.
Before appearing on Revenge, Courtney Ford recurred on Dexter as the villainous Christine Hill.