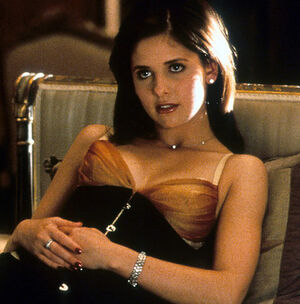 Kathryn Merteuil
(Sarah Michelle Gellar) was born into Manhattan's most elite social circles to Tiffany Merteuil a well-respected New York socialite, she attended Manchester Prep, a prestigious co-educational private school on just outside of the city and lived on the Upper East Side with her mother, when Tiffany got married to Edward Valmont her and her daughter moved into the Valmont House his and his son's (Sebastian Valmont) opulent Fifth Avenue town-house mansion. As Kathryn came-of-age, she excelled in many academic fields and became fluent in the French and Vietnamese Languages. Kathryn also mastered the Piano and became known throughout the school community as a role-model and a inspiration to all parents, even though secretly developing addictions to both alcohol and cocaine. She also has at least one cousin, Cassidy, who is even more deceptive than Kathryn. The new school year is inaugurated with Sebastian's funeral. During the service, Kathryn gives a self-important speech to the school about how she had unsuccessfully tried to get Sebastian to mend his ways and become a model student like herself. Halfway through her speech, students start walking out. Flustered, Kathryn rushes outside the chapel, where Cecile is distributing copies of Sebastian's journal (entitled "Cruel Intentions") to all the students. The journal shows all of Sebastian's inner thoughts: his conquests, his description of the bet, and a page on Kathryn, which finally exposes her manipulative and deceitful ways, including the fact that she hides a vial of cocaine in a crucifix she wears in the rosary beads around her wrist. The headmaster takes Kathryn's crucifix and opens it, spilling the cocaine. Kathryn's spotless reputation is destroyed, and people finally see her for the troubled, callous mastermind that she is.
Ad blocker interference detected!
Wikia is a free-to-use site that makes money from advertising. We have a modified experience for viewers using ad blockers

Wikia is not accessible if you've made further modifications. Remove the custom ad blocker rule(s) and the page will load as expected.