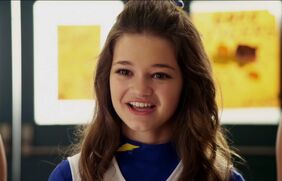 Kylee Coors (Ciara Bravo) is the main antagonist in the "Cheer Fever" episode of "Supah Ninjas". She is the boss of
Sadie and Rose
. Amanda had caught her stealing money at a cheer camp in the summer. Kylee was determined to get revenge on Amanda by blowing up the school and making it look like Amanda did it!
She fails in her attempt. Amanda defeats her and she is left hanging upside down by her feet and is presumably arrested and sent back to jail.
Ad blocker interference detected!
Wikia is a free-to-use site that makes money from advertising. We have a modified experience for viewers using ad blockers

Wikia is not accessible if you've made further modifications. Remove the custom ad blocker rule(s) and the page will load as expected.