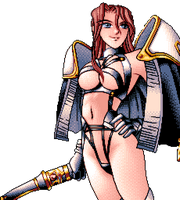 Kyuuma (
キューマ
)
is the evil protagonist of the 1996 PC-98 strategy game "Panic Dolls".
Kyuuma is a demon summoner who works with the evil warlard Barado. As the villainess, it is her job to prevent the game's three heroines - Phoenix Rose, Tiger Lily, and Tortoise Cherry - from venturing into his lair and defeating him.
On each floor of the dungeon, Kyuuma strategically places monsters around so that they can ambush the trio.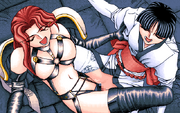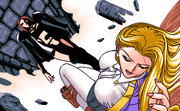 Ad blocker interference detected!
Wikia is a free-to-use site that makes money from advertising. We have a modified experience for viewers using ad blockers

Wikia is not accessible if you've made further modifications. Remove the custom ad blocker rule(s) and the page will load as expected.