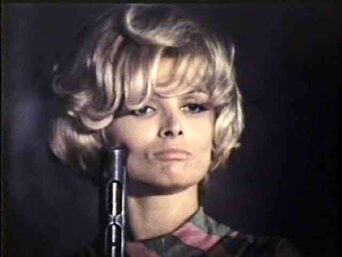 La Tigra (played by Scilla Gabel) is the villainess from the Austrian-German movie "Target for killing" (1966), which was originally called "Das Geheimnis der Gelben Monche".
La Tigra or Tiger is a henchwoman for the evil Gerard van Looch "Giant" (Curd Jurgens).  The evil group is a member of a Lebanese crime syndicate who wants to assassinate a young heiress (Molly Peters), and claim her millions.  James Vine (Stewart Granger) is the secret agent assigned to protect the girl from harm.
In one scene, two of van Looch's gang has failed to kill her aboard a flight.  La Tigra takes the attractive evil stewardess (Erika Remberg) to the dungeon, where she gets in a little tussle (catfight) with her.  The stewardess rips the top collar of her blouse, and La Tigra vows revenge for the clothes ripping.  As a result, La Tigra shoots her with a machine gun.
Later La Tigra is sunning herself on a beach with van Looch, when she takes a call from another henchman.  She is wearing a binkini that is attached with fishnet to make it appear a one piece.
When Vine is later taken into custody by the crime syndicate, it is La Tigra who puts handcuffs on him.  We also see the lovely Sandra Perkins (Karin Dor) handuffed to a wall.  When Vine throws an explosive device on the floor and then threatens to detonate it with a pen he still possesses.  While van Looch jumps out of the way, Vine then detonated the device, and La Tigra was hit with shrapnel from the exploding device.
Scilla Gabel appeared as Toni , the moll of the main antagonist in the 1959 film, "Tarzan's Greatest Adventure".
Scilla Gabel appeared as Isabella in the 1960 peplum film, "The Queen of the Pirates".