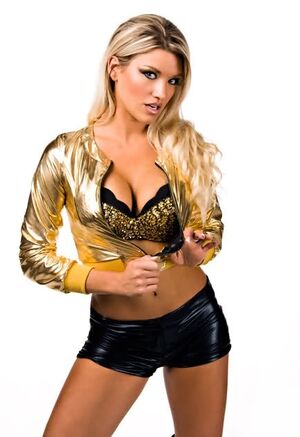 Lacey Von Erich
is a professional wrestler best known for competing in
TNA
, where she portrayed a villainess,  Lacey was born Lacey Dawn Adkisson.
The lone female member of the legendary Von Erich wrestling family, Lacey Von Erich debuted for TNA on October 1, 2009, doing so as a villainess assisting Velvet Sky and Madison Rayne attack Knockouts Tag Team Champions Taylor Wilde and Sarita in the ring. During the attack, the evil Lacey placed her family's patented Von Erich Claw on Sarita; doing so with such intensity that Velvet and Madison had to pull her off of her intended victim.
In the weeks that passed, Lacey served as a tertiary villainess behind group leader Velvet and second-in-command Madison, and she assisted the duo in their feuds with former leader Angelina Love and Tara. Lacey helped the BPs capture the Knockouts Tag Team Championship, and even managed to get involved in a steel cage tag team match at Lockdown, which led to the BPs defeating Angelina Love and Tara for Love's Knockouts Championship, which Madison would win by covering Tara. Lacey would share the honor of being a Knockouts Tag Team Champion due to the trio defending the titles under the Freebird Rule.
Lacey's villainous role began to come to an end once Madison became egotistical to the point where she felt that didn't need her or Velvet anymore. After Madison gained the services of a mysterious henchwoman, who was later revealed as the evil Tara, Lacey and Velvet both began to shy away from her. After she was attacked by Tara in the ring on Impact, Lacey ended her run as a villainess and sided with Angelina and Velvet. Lacey was released by TNA in late 2010.