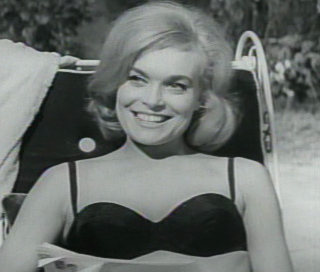 Laura Knapp
 (Shirley Eaton) is the main villainess of the 1963 film, "Mike Hammer Story
The Girl Hunters"
. 
Laura Knapp, was recently widowed wife of an assassinated U.S. senator, who doesn't seem to go in for a long mourning period. The beautiful young blonde likes to lounge around her swimming pool in brief bikinis (which amounts to about 90% of her screen time).
Hard-nosed private eye Mike Hammer (played this time by his creator, Mickey Spillane) is trying to find his abducted secretary, Velda. That search puts him on the trail of a shadowy Soviet spy known as "The Dragon". He interviews the late anti-communist Senator's young widow, Laura. He doesn't get much information, but does get an eye-full and it seems their attraction is mutual.
During a visit to Laura's poolside cabana, Hammer strongly cautions her about putting the muzzle of her double-barrel shotgun (which she keeps for protection) down in a planter.... the bores plugged with dirt would send the shotgun blast right back in the shooter's face, blowing her head off.
Finally, Hammer finds out that "the Dragon" is really two people... the "mechanic" that tried to kill him and an insider.... Laura! He returns to her mansion to find her swimming. While she puts on a dress behind a screen, he rams the muzzle of the shotgun down into the planter, plugging the barrels with dirt. After revealing that he knows that she married the Senator to get inside information to pass on to the Soviets, and then had her partner murder him, Hammer walks away. But Laura comes out of the cabana with the shotgun, telling him to stop. He turns around and watches her (her hair still wet) point the shotgun at him, her fingers tightening on both triggers. Hammer says, "So long, baby." The blast. Hammer grimaces and walks away.
Shirley Eaton appeared as the main villainess Sumuru in the 1967 film, "The Million Eyes of Sumuru".