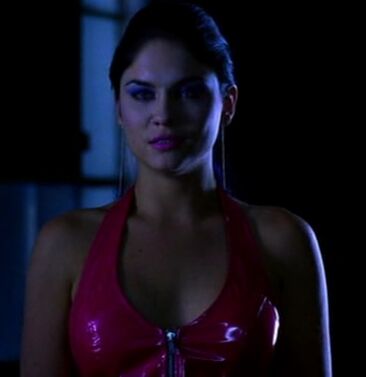 Layla Simmons
(Jodi Lyn O'Keefe) was a villainess from the 2004 film, 
Vampires:  Out For Blood.
Layla Simmons was originally reported missing without a trace, until protagonist Hank Helton discovered her at a nightclub. The club is revealed to be a haven for vampires, and Hank is shocked to discover that Layla is a vampire herself. Later in the film, the evil Layla encountered Hank once again, and attempted to seduce Hank, all the while displaying her vampire fangs and features. She and her male vampire accomplice, later went after Hank and his ex-wife, Susan Hastings, in a hotel room, but they were fought off. While searching for Susan (who was taken by the master vampire, Hank finds Layla in her resting place, and gets Susan's location out of her before killing her with a wooden stake.
Jodi Lyn O'Keefe appeared as bully Taylor Vaughn in the 1999 teen movie She's All That.
Jodi Lyn O'Keefe appeared as Debbie Strand in the 2000 movie, Devil in the Flesh 2, which is also known as Teacher's Pet.
Jodi Lyn O'Keefe appeared as the Spider Demon in the 2004 episode "Spider Demon" for the TV series Charmed,
Jodi Lyn O'Keefe appeared as Isabella , a witch and Charlie's girlfiend in several episodes between 2005-2011 of Two and a Half Men.
Jodi Lyn O'Keefe appeared as Gretchen Morgan from 2007-2009 in the TV series Prison Break.
Jodi Lyn O'Keefe appeared as Lisa aka Mandy in the 2012 episode "A Cinderella Story" from the TV series The Finder.
Ad blocker interference detected!
Wikia is a free-to-use site that makes money from advertising. We have a modified experience for viewers using ad blockers

Wikia is not accessible if you've made further modifications. Remove the custom ad blocker rule(s) and the page will load as expected.