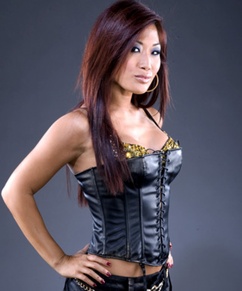 Lena Yada is a former wrestler and backstage interviewer for WWE, where she portrayed a villainess.
Lena debuted as the newest Diva for the ECW brand in January 2008, doing so by entering herself in a dance contest that originally included Kelly Kelly and Layla, and even went as far as naming herself as the winner. Weeks later, the evil Lena participated in a "Best Body Contest," which was won by Kelly Kelly. After the contest, Lena and Layla both attacked Kelly. From that point on, Lena formed an alliance with Layla, which later included Victoria, as they all targeted Kelly Kelly. Lena also was on the victorious heel side of a 16-Diva tag team match, and served as an evil lumberjill in the Champion vs Champion match between Michelle McCool and Beth Phoenix.
Ad blocker interference detected!
Wikia is a free-to-use site that makes money from advertising. We have a modified experience for viewers using ad blockers

Wikia is not accessible if you've made further modifications. Remove the custom ad blocker rule(s) and the page will load as expected.