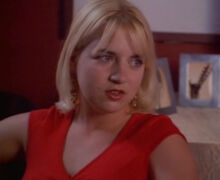 Lisa played by Juliette Danielle is the primary antagonist in the 2003 Romantic Drama, The Room. Lisa is the main protagonist Johnny's girlfriend and despite Johnny's love for Lisa, Lisa becomes bored with Johnny. Lisa selfishly starts an affair with Johnny's best friend Mark. Throughout the film Lisa is portrayed as being callous and manipulative, at one point falsely accusing Johnny of domestic violence, at another point causing Mark to utter under his breath "she-devil." The film never adequately explain's Lisa's actions, her best friend Michelle frequently question's Lisa's motives. Lisa's mother is quite overbearing and inconsistent in her advice and may play a role in Lisa's abnormal psychology.
One of Lisa's final malicious acts is to tell Johnny that she is pregnant, simply to make a party interesting.
Ad blocker interference detected!
Wikia is a free-to-use site that makes money from advertising. We have a modified experience for viewers using ad blockers

Wikia is not accessible if you've made further modifications. Remove the custom ad blocker rule(s) and the page will load as expected.