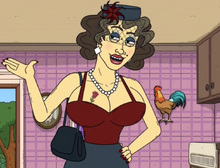 Lisa Gabagoolie
is the secondary antagonist of the Mr. Pickles episode "Fish?".
She is the daughter of the Italian mob boss, Jon Gabagoolie who Mr. Pickles had in his lair until he escaped and was arrested by police, and placed in a cell. She tries to seduce the town sheriff so she could grab his keys and let her father out of jail. Unfortunately for her, Mr. Bojenkins suspects that she is only using the sheriff and tries to stop her, but when he tries to tell the sheriff of her bad intentions he doesn't listen because he is too drawn to Lisa's beauty. After Mr. Bojenkins escapes his cell he goes to stop the evil Lisa and her father who she just released after stealing the keys from the sheriff. Instead of trying to run from town the 2 go back to the hotel room where the sheriff is still waiting for Lisa in a Jacuzzi. Just as they are about to kill the sheriff, Mr. Bojenkins storms in and stops them. The 2 end up escaping from the sheriff, Mr. Bojenkins, and the sheriff's mom, but run into Mr. Pickles. He kills Jon Gabagoolie by tearing his face off and shooting him in the mouth with a gun. Lisa then gets out of the car and makes a run for it into the woods. Mr. Pickles sees her fleeing and at first doesn't seem to care, but then turns around and starts running towards the woods and the episode ends. She was presumably killed by Mr. Pickles in a gory way as are most if not all of his victims.
Description
Edit
She is a tall, busty, brunette with short hair who wears a grey long skirt and a red top that can barely support the size of her enormous breasts. She also wears red high heels and pearls around her neck. She also has a tattoo of a rose on her right breast.