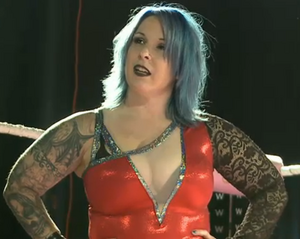 LuFisto is a professional wrestler currently competing in Shine Wrestling, where she portrays a villainess.
LuFisto debuted for Shine Wrestling at SHINE 7 in February 2013, where she was defeated by then-heel Ivelisse. After appearing as a babyface at the promotion, LuFisto began turning villainous while appearing at SHINE 37 on September 2, 2016. At the event, LuFisto campaigned to replace the absent Allysin Kay as Ivelisse's opponent for the SHINE Championship, claiming that Shine officials don't want LuFisto to be champion. Ivelisse accepted LuFisto's challenge, and subsequently, the evil LuFisto attacked Ivelisse's ally, Amanda Rodriguez.
In the championship match, LuFisto was defeated by Ivelisse, and after the match, she formed an alliance with Kennadi Brink, Amber Gallows, and Andréa, while also attacking Ivelisse and other babyfaces, cementing LuFisto as a villainess. After the attack, LuFisto continued to accuse Shine officials of holding her back, and the four of them officially dubbed themselves as C4.
Ad blocker interference detected!
Wikia is a free-to-use site that makes money from advertising. We have a modified experience for viewers using ad blockers

Wikia is not accessible if you've made further modifications. Remove the custom ad blocker rule(s) and the page will load as expected.